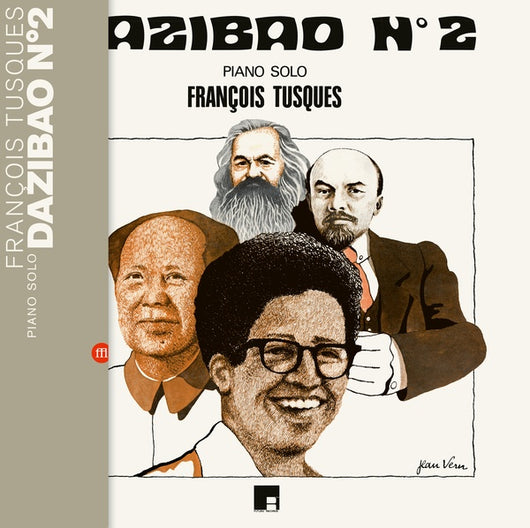 Francois Tusques - Dazibao n°2 LP
Regular price $30.00 Sale
Reissue of
François Tusques
's
Dazibao n°2
, originally released in 1971. This was of course not the first time that François Tusques was a "headline act". In 1965, he recorded, with other like-minded Frenchmen (
François Jeanneau
,
Michel Portal
,
Bernard Vitet
,
Beb Guérin
, and
Charles Saudrais
), the first album of free jazz in France, named...
Free Jazz
. In 1967, Tusques again served up
Le Nouveau Jazz
, in the company of
Barney Wilen
(and
Beb Guérin
,
Jean-François Jenny-Clark
, and
Aldo Romano
). Three years later, between May and September 1970, the pianist recorded, at his home,
Piano Dazibao
(FFL 073LP), an album on which he multiplied joyful escapades as a critical iconoclast. The following year Tusques recorded
Dazibao N°2
, which shows him as an incisive commentator of his times. Following in the footsteps of
Don Cherry
, who he had met a few years earlier in Paris, Tusques made a plea for "friendship between all the peoples of the world" to the sound of Universalist hymns which transported us from Africa to Asia. But it is really a song to America, evoking the assassination of the activist
George Jackson
and the mutiny in Attica prison, before covering "Seize the Time" by
Elaine Brown
-- three years after the release of
Dazibao N°2
, she became the first (and only) woman to lead the Black Panther Party. The turmoil of
Piano Dazibao
, was opposed, on
Dazibao N°2
, by long, labyrinthine tracks with alternating discords and repetitions. Often using prepared piano, Tusques was more percussive (even heady) than ever, exposing a melody with solid hammer strikes or painting an image which radiated peace in spite of the storms.
Piano Dazibao
and
Dazibao N°2
thus form the two sides of one coin, which displays the effigy of François Tusques, an international national monument. Licensed from Futura / Marge. Carefully remastered from the master tapes. 180 gram vinyl.