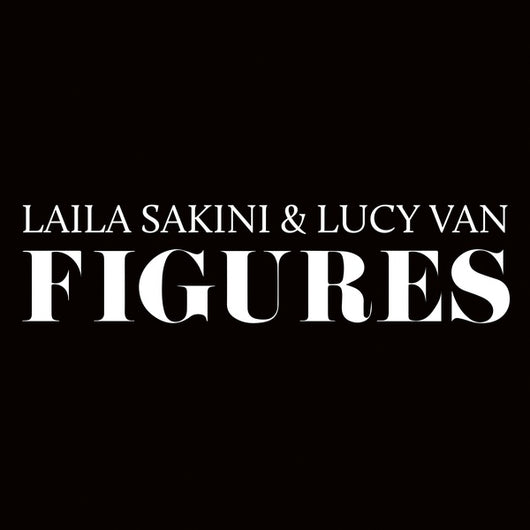 Laila Sakini & Lucy Van - Figures LP
Regular price $28.00 Sale
Laila Sakini
and
Lucy Van
's highly sought after 2017 EP
Figures
resurfaces on a newly expanded and remastered edition, deploying taut poetry and precise production for an alchemical suite of slowly encroaching trip hop x dub-pop pulses -- highly recommended if you're into
CS + Kreme
,
Laurie Anderson
,
Leslie Winer
,
YL Hooi
,
Bullion
,
Jonnine
,
Kallista Kult
. Long before releasing her slow-burn classic
Vivienne
and 2021's compelling
Princess Diana of Wales
album (ACOLOUR 038LP), Laila Sakini was at work with acclaimed poet Lucy Van for an impromptu session for a local noise and spoken word night in Naarm, Australia. Those initial ideas marinated and eventually resulted in
Figures
-- an EP that offsets Sakini's minimal production against Van's text, spoken in a carefully enunciated dialect lifted and wrapped around Sakini's nocturnes. It's the sort of thing that is reminiscent of
Tin Man & Rashad Becker
's
Wasteland
sessions, fused with the spirit of the contemporary Naarm/Melbourne scene. For all those references, Sakini and Van's songs are displaced from the contemporary wellspring too. The dusky blue waltz of opener "Those Who See" comes off like a lighter Leslie Winer or melodic, early
AFX
, as Van dryly intones "...all my enemies in an orgy, of IQ to body ratio," while "Deep End" sees them nudge into more claustrophobic introspection, before shoring up a dank sort of trip hop sleaze with the title song, slithering with a similar energy to early '90s
Autechre
as the narration echoes into a blur. The three previously unreleased songs flesh out the release into the full album it always should have been, cut of equally rare, hand-spun fabric. With its post-
Sleng Teng
B-line and noctilucent chords, "What You Need" feels like an Eski rhythmic bump accompanied by sub-aquatic synth bass, and the opalescent, gumtree-shaking shimmer "Rough Desires" secretes its intimations with an absorbingly hypnagogic slow-burn that pools into the perfect curtain closer; "Trees Make Me High". For those that care for cultural artefacts and biographical turning points, this record is worth the wait. The good stuff always rises to the surface. Remastered by
Rashad Becker
. Clear vinyl; edition of 500.