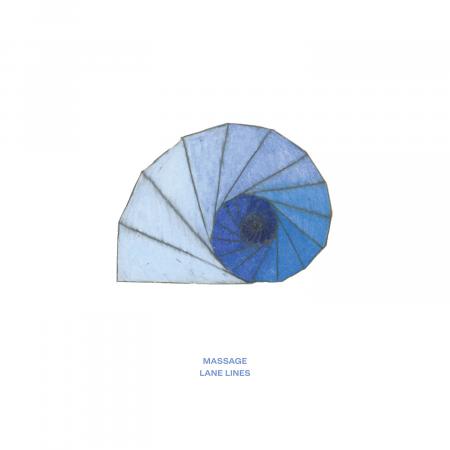 Massage - Lane Lines 12"
Regular price $15.00 Sale
>> Just a few months after releasing their acclaimed second album Still Life, Los Angeles indie-pop band Massage returns with Lane Lines — a six-track EP out in early 2022 on Mt. St. Mtn. (Cindy, Flowertown, Blues Lawyer) that finds the quintet expanding on their Sarah-meets-Creation Records sound with new touches of soft psychedelia, Feelies-ish frenzy and Haçienda-era escapism.
The band didn't plan to follow Still Lines so quickly. But after the pandemic further delayed that multi-year project, Alex Naidus (guitar, vocals, former Pains of Being Pure at Heart), Andrew Romano (guitar, vocals), Gabrielle Ferrer (keyboards, percussion, vocals), David Rager (bass) and Natalie de Almeida (drums) leapt at the chance to make music together again in real life and started gathering on random summer evenings in the tiny rehearsal-space studio of producer-composer Andrew Brassell (Susanna Hoffs) with no clear goal in mind.
Lane Lines is the surprise product of those informal sessions — a flash of pent-up creative energy that serves as both a companion piece to Still Life and an exploration of textures and influences that didn't quite fit the full-length but have always been deeply embedded in the band's DNA, with new echoes of 1980s artists that sought to refract the 1960s through their own skewed prisms: Flying Nun, the Paisley Underground, The Feelies covering The Beatles, "Second Summer of Love" New Order.
"The songs on Still Life and Lane Lines seem to straddle the line between indie and pop without exactly being 'indie pop,'" Romano says. "To me they feel more like descendents of 'college rock' — a moment that lasted from about 1986 to 1991, right before the underground and the mainstream converged, when it seemed like any scrappy indie band might stumble across a hit."
The EP begins with the new single version of Still Life standout "In Gray & Blue," which along with previous singles "Half a Feeling" and "Made of Moods" is part of a trio of songs written during the first days of lockdown and later added to the album. But while brief lulls in the pandemic allowed Massage to record the other lockdown tracks in the studio, the LP version of "In Gray & Blue" was entirely DIY — a GarageBand demo emailed around for overdubs and ultimately "mixed" by Romano himself.   
The single version of "In Gray & Blue" — enlivened with new guitars, new drums and a proper mix — is what the song was always meant to sound like: a lost New Order outtake from 1989's Technique.  
"The original inspiration was actually the Go-Betweens — specifically their propulsive live version of 'Bye Bye Pride' — and I can still hear some Grant McLennan in the melody," Romano says. "But then one night during the pandemic we were all doing a distanced hang in Gabi's yard and New Order's "Run" came on some playlist and I suddenly realized that that was the sound I wanted: the crack of Stephen Morris's drums, the fizz of Bernard Sumner's guitar, the bounce of Peter Hook's bass — just the whole vibe of leaving the plague behind and falling in love on some Spanish island."
That lush Balearic ideal was beyond the band's home-recording capabilities — but not Brassell's. A song about how relationships seem to bend time, collapsing both past and future into the present, "In Gray & Blue" is the sound of Massage getting outside its ramshackle comfort zone and reaching for the sort of pop romanticism that would've felt right at home on MTV in the summer of 1989. A music video directed by Ferrer and shot on 16 millimeter film will be released in mid-November to accompany the single and announce the EP.  
The second track on Lane Lines is the swooning "Stalingrad." Initially recorded by Lewis Pesacov (Fool's Gold, Foreign Born, Best Coast) for Still Life, "Stalingrad" was cut from the LP when new songs emerged during lockdown — but with its lysergic Clientele arpeggios and surreal Iron Curtain imagery, it's always been a band favorite. An atmospheric new mix by producer and artist Connor Hanwick (Dondadi, The Drums) provided the finishing touch. Several Strokes — Julian, Fab and Nikolai — make cameos.
Title track "Lane Lines" follows "Stalingrad." Inspired by the mid-career acoustic drone and suburban mysticism of Romano and Naidus's fellow New Jersey natives The Feelies, "Lane Lines" was originally written after Massage finished recording its debut LP Oh Boy and before work started on Still Life. Then it fell through the cracks. A friend lobbied for its revival after hearing a demo, and a chance encounter with a video of The Feelies performing "Slipping (Into Something)" in 1987 inspired a new addition to the arrangement — the extended and increasingly frantic cacophony of strumming, percussion and spiraling guitar that fuels the second half of the song. To evoke the Feelies' distinctive drum sound, De Almeida recorded "modularly," one element of her kit at a time.   
"I'm Going in a Field" — the first cover song Massage has committed to tape — closes out the digital version of the EP. During the pandemic, Naidus introduced the rest of the band to the strange psychedelic charms of Scottish poet and singer Ivor Cutler, and to this 1967 song in particular, which Cutler recorded with producer George Martin shortly after appearing as Buster Bloodvessel in The Beatles' Magical Mystery Tour film. Cutler's version is just voice and harmonium; Massage and Brassell went maximalist instead, honoring the trippy spirit of late-1960s London with layer after layer of six- and 12-string guitar.
In addition, the vinyl version of Lane Lines also features two exclusive bonus tracks: an acoustic demo of the new, Big Star-esque "Without Your Love" (slated to appear in fully electrified form on the next Massage LP) and the original lockdown demo of "Half a Feeling," the first single from Still Life.